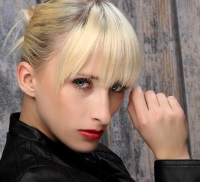 Wow!!!
Awesome video and good video quality. It is best video I have seen this month. This short video shows how to apply good make up in less than 2 minutes. I will ensure that my makeup artist sees this video, because it will help her apply quick and amazing make up for her clients. When I first saw this Video on your YouTube channel, I thought it would be a Long session of recorded make up, but my expectations were defeated because this video turns out to be the best I have seen when it comes to applying quick make up.
Most Females can't apply their makeup so quickly but with this video that issue is already solved. Seeing a Pretty girl doing this at Lightning speed is what amazes me the most. I know Most of people who see this will be thinking a makeup artist did this for you, Please remember to tell them you did it yourself. And your Outfit really goes well with your make up.
Heaven won't forgive me if I fail to acknowledge your dance steps at the end. Seems you are Multi Talented. I must commend your creativity. Keep up the good work.