I always had a thing for the places where the oldest and most successful civilizations of our planet were born. Greece is one of them, having areas that still seem to guide themselves after the old rules. Did you know that there are islands in Greece where people have the longest life span in the world? Well, it appears that their lifestyle, their Mediterranean menu, and other daily habits, helps them live for very many years, in perfect health. Well, the discussion about how people manage to live longer here will happen on another occasion, because the following lines are dedicated for the beauty of the area. There are resorts in Greece that need to be seen, at least once in this lifetime. And I will talk about a particular gem of the country.
Santorini is probably the most charming resort on the entire coast of Greece. Why is it so beautiful? Mostly because the buildings on this island are build around the rocky cliffs that border the seashore, offering anyone that sits there a stunning view. All the buildings still have the authentic Greek design, being completely painted in white and having deep blue roofs. It feels like being a part of a surreal story when you step in the area, because this is a place like nothing you've ever seen anywhere in the world. Perhaps this is why Angelina Jolie and Leonardo DiCaprio love Santorini so much. Yes, you heard well, these two celebrities are in love with the island and won't miss a change to spend a gorgeous vacation over here. It is enough to look at a few pictures made here and you will understand why.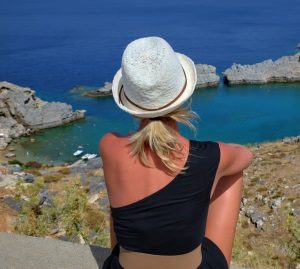 Now, having in mind that famous people come here, you probably wonder if this is an expensive destination. The truth is that it is a bit more expensive than any other Greek resort you may choose, but you will not find the same conditions and views like you find in Santorini. It is unique even in Greece, being the pearl of resorts in the entire country. Of course, there are luxury hotels, with private pools and many other facilities, to suit the needs of celebrities, but there are also places that are accessible for anyone looking to enjoy this resort. So, it is not an exclusive resort, and you will not have to spend a small fortune to enjoy a vacation over here. In fact, in comparison with other island resorts around the world, you will find Santorini quite affordable.
Thus, if you want to reside in a beautiful traditional Greek house, on the edge of a volcanic caldera, near the seaside, you need to come here. All the houses, streets, and every other element of the resort have been restored following the exact style of Greek architecture, for maintaining the beauty specific to this area. But, besides enjoying a modern resort, you can see here traces of one of the oldest civilizations on Greek land, the Minoan civilization. As you can see, there is more than one reason to visit Santorini, because it will definitely steal your heart, for the rest of your days.